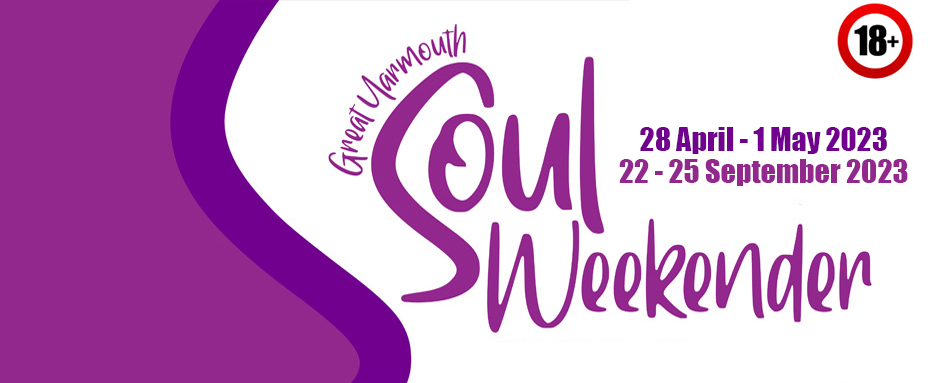 IMPORTANT TICKET INFORMATION
This event is for over 18's and we are operating photo ID passes.
You will need to wear your photo ID pass at all times. You will not gain access to the venues without it.
The lead booker will have received information on how to send us the photographs of everyone in their booking for the September Great Yarmouth Soul Weekender 2021 event.
Photos will need to be submitted by Wednesday 1st September 2021 for all party members.
Please email photographs to GYSWPhoto@parkdean-resorts.com
Please note official passport photos are not required, though photos supplied need to be of a similar standard (of portrait orientation, not obscured with hats, glasses, hair in face etc). If they are not supplied correctly they might be refused and another image requested.
Email subject line needs to have your five digit booking reference number.
Ideally each photo needs to be saved as the person's name and attached to the email. If this is not possible, please send individual emails with the photo and the name in each email (again with the booking reference as the subject line so it's clear).
For large groups please note multiple emails might need to be sent due to file size.
If you have any queries regarding the photo passes please send us an email with your contact details to GYSWPhoto@parkdean-resorts.comm and we will get in touch.
Once we have confirmed we have all the information, the lead booker will be sent tickets for all party members via the post. Please keep these safe!
Tickets will be needed to gain entry to the park on arrival, so feel free to distribute your tickets to your party members before the event if they are arriving separately to you. Also see the car park section below regarding car park hangers.
Tickets will be exchanged for photo passes on arrival at the event at reception.
Every party member will need a ticket to pick up their photo ID pass for the weekend and will need to provide official photo ID, such as a driving license or passport to collect. If you don't have these, please email GYSWPhoto@parkdean-resorts.com for other forms of ID we will accept.
A security photo ID will be done on collection of your photo pass. If you fail this check for any reason, you will not gain access to the park.
OTHER INFORMATION
Can we park on site? Two cars are allowed per booking and the lead booker will receive two car park hangers to hang from their mirror. These need to be clearly displayed on arrival. You should be able to park two cars next to your holiday home or chalet, but this is not guaranteed. If you are unable to park two cars, please use a parking bay near the venue. Please do not obstruct the pathways. If you are bringing more than two cars there will be a car park available at the entrance of the park. You can have access to this car park over the weekend and are able to move your car and go off site.
Don't forget your photo pass when you leave the site as you won't be allowed back on without it!
Will there be fancy dress? There is no themed fancy night scheduled in, however if you wish to dress up feel free!
What time can we arrive / depart? Arrival is from 1pm the Friday of the event. Departure by 1pm Monday. Please take your rubbish to the nearest bin bay.
Please note the BBQ starts at 1pm on the Friday. The full running schedule will be available at www.GreatYarmouthSoulWeekender.co.uk nearer the time. For the latest updates please see the Great Yarmouth Soul Weekender social pages (facebook, Instagram and twitter).
Merchandise We are very excited Mad Hatter Merchandise have GYSW products for sale. You can order in advance, check them out here.
---