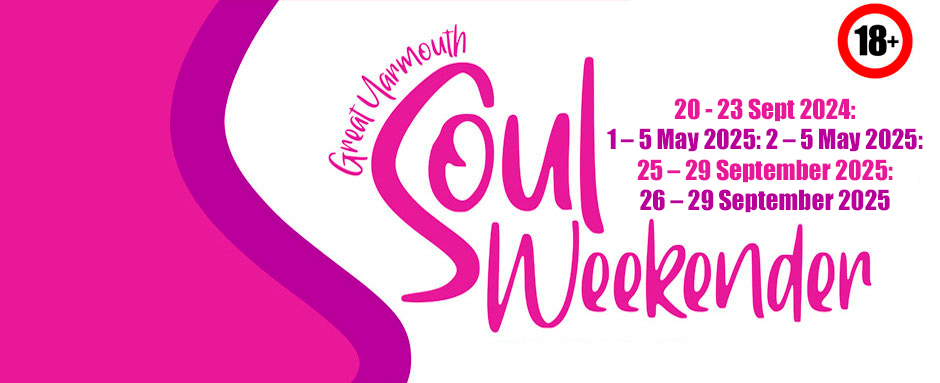 IMPORTANT TICKET INFORMATION
• This event is for over 18's and we are operating ID passes. You will need to wear your ID pass at all times. You will not gain access to the venues without it. The lead booker will receive information on how to send us the names of everyone in their booking. Please note you are no longer required to send in a photo of everyone in your party. We just require names – making it even easier!
Please email all party names to GYSWinfo@parkdean-resorts.com
• Emails must be sent with the lead name, your 5 digit booking ID number and names for each member in your party. Just to clarify, please send in your first name and surname of each party member. If this can be done in one email by the lead booker, it will be appreciated.
• Tickets will be sent to the lead booker, along with your pre-arrival information and car hangers (if applicable).
• Tickets will be needed to gain entry to Vauxhall Holiday Park on arrival, so feel free to distribute to your group before the event if they are arriving separately.
• Tickets will be exchanged for passes on arrival at the event. Every party member will need a ticket to pick up their ID pass for the weekend
• If there is a name change within your group once passes have been printed, there will be a £20 charge for this.
OTHER INFORMATION
GYSW Soul Shuttle Bus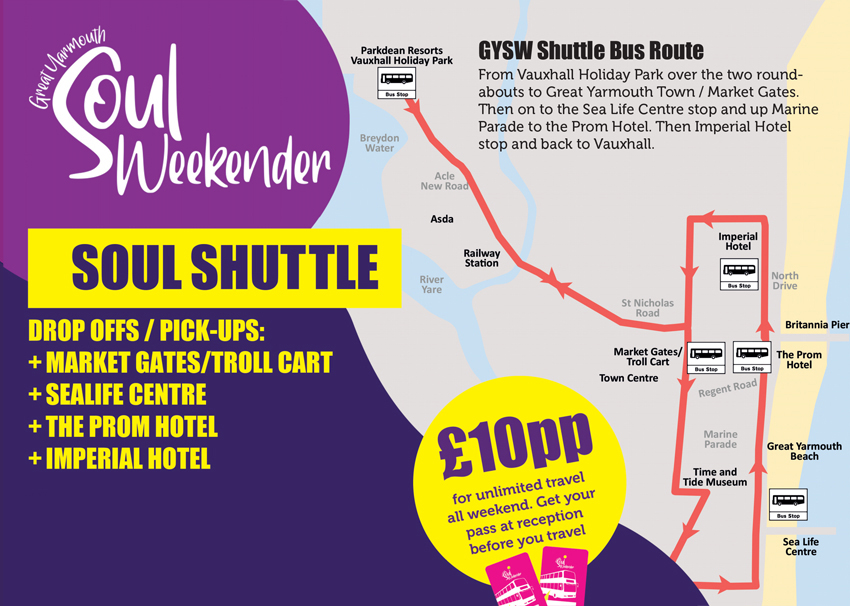 The GYSW Soul Shuttle will be running at each Great Yarmouth Soul Weekender event. It will be leave Vauxhall Holiday Park frequently over the weekend and be on a loop going to town and down the seafront, and then back to Vauxhall. Please see timetable below for the September 2023 event. Tickets for the Shuttle are just £10 per person for unlimited travel all weekend! 
We introduced the Shuttle service to help people who have booked off-site tickets and arranged accommodation locally to get to / from Vauxhall with ease, though if you are staying on-site in accommodation you can also use the shuttle. 
22 - 25 September 2023 - The Shuttle is a large double decker bus. It will run from 12.30pm - 5am Friday and 11.40am - 5am Saturday and Sunday. Timetable below. 
There will be four stops - Market Gates / Troll Cart stop in town, and then a stop opposite the Sea Life Centre, then one outside The Prom Hotel and the Imperial Hotel. The Stops will be clearly marked. There is plenty of room on the shuttle so you can ride in style with your friends listening to soul music! Please purchase your £10 ticket in advance.  To add the GYSW Soul Shuttle on your existing booking please call 0330 818 0671 during office hours. 
Note for new bookings you can purchase online once you have selected a 'weekend pass' ticket. Tickets are non-transferable and valid for 1 event only.
Please note you can purchase tickets while on site though there might be a short wait while we make up your pass.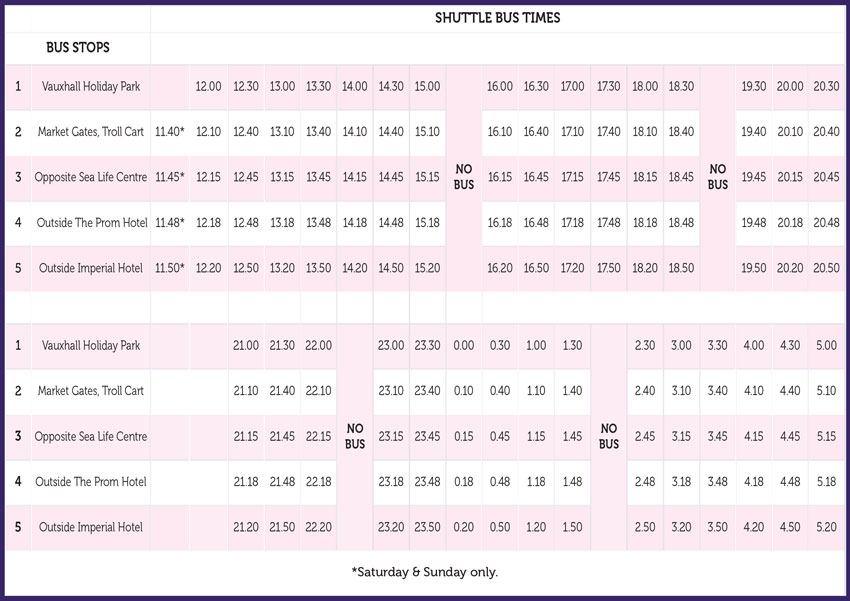 Can we park on site?
Two cars are allowed per booking and the lead booker will receive two car park hangers to hang from their mirror. These need to be clearly displayed on arrival. You should be able to park two cars next to your holiday home or chalet, but this is not guaranteed. If you are unable to park two cars, please use a parking bay near the venue. Please do not obstruct the pathways. If you are bringing more than two cars there will be a car park available at the entrance of the park. You can have access to this car park over the weekend and are able to move your car and go off site.
Don't forget your pass when you leave the site as you won't be allowed back on without it!
Will there be fancy dress?
There is no themed fancy night scheduled in, however if you wish to dress up feel free!
Have GYSW products for sale. You can order in advance.
---
What time can we arrive / depart?
Arrival is from 1pm the Friday of the event. Reception will be open until 8pm. Please notify us if you will arriving after this time. Departure by 1pm Monday. Please take your rubbish to the nearest bin bay.
Please note the Terrace Party starts at approx 2pm on the Friday.
facebook | Instagram | twitter